Lyxor Stoxx Europe 600 Retail - RTA - 01/11/2017
Short term strategy : Positive (80%) / Trend +
Long term strategy : Negative (30%) / Trend =

Characteristics of the ETF
The ETF Lyxor RTA (Retail Europe) was created in 08/2006, is listed in Euro on the Euronext market place and seeks to replicate the STOXX600 Retail (SXXR) Index which is composed of the main European distribution stocks.
The costs of this ETF are 0.3% and AUM of approximately 32 M€. Replication is indirect (via a swap) and dividends are capitalized.
Alternative ETFs:  EXH8 ( iShares in Euro), SC05 ( powershares in Euro)
Index & components
This index is quite concentrated since it has only 28 stocks.
The index is essentially composed of large market capitalizations, with Inditex in the first place accounting for 15.8% of the index and weighing more than € 100bn of capitalization. The asset  of this basket is its diversification from a business point of view, it is composed of distribution companies ​​with a strong food component, namely hypermarkets (Tesco, Carrefour, Ahold, Casino, etc.) which are in general rather defensive values, but some of them are looking for new business models or refocusing on their home markets, due to difficult emerging markets and sometimes excessive leverage. Other companies such as Inditex, Next, Hennes & Mauritz or Kering are more closely linked to fashion and textile / ready-to-wear distribution, which essentially makes them growth stocks, while we will also find in this index stocks ​​such as than Kingfisher who are distributors specializing in construction with an essentially cyclical business model. All in all, this makes it a varied index with moderate volatility, while Inditex is a pole of stability for its weight and growth momentum.
The industry faces many challenges, including the one posed by e-commerce players (Amazon in the first place) that crush prices and change the customer relationship by redefining the supply chain and offering new services. The trend is toward the combination of physical networks and e-commerce platforms, so we see Carrefour reiterate its ambitions for expansion in e-commerce while Amazon makes acquisitions in order to acquire a physical network in the United States and lokking for targets in Europe. Consolidation movements are expected, while bankruptcies could also occur like Toys'r us in the United States.
Latest developments
The sector posted a negative performance of -5.8% in 2016, below the stoxx600 and lost 0.5% since the beginning of the year. The index is lagging behind the rest of the market, penalized by a lack of catalyst and still weak consumption in Europe but the  warning was given by Amazon who bought Whole Food Markets this summer for $ 13.7m in the US, and poses a direct threat to large food retailers, and primarily those with strong positions in the United States as Ahold Delhaize which fell more than 15% in the 2 days following the announcement. This threat is unlikely to have an immediate impact on the margins of traditional retailers, but will further tighten the competitive environment and further worsen the already low visibility, which could justify a higher risk premium required by investors.
In addition, Inditex, the largest capitalization of the index is currently in a correction phase, which is linked to the Catalan problem as the company  achieves 19% of its turnover in Spain.
Monthly data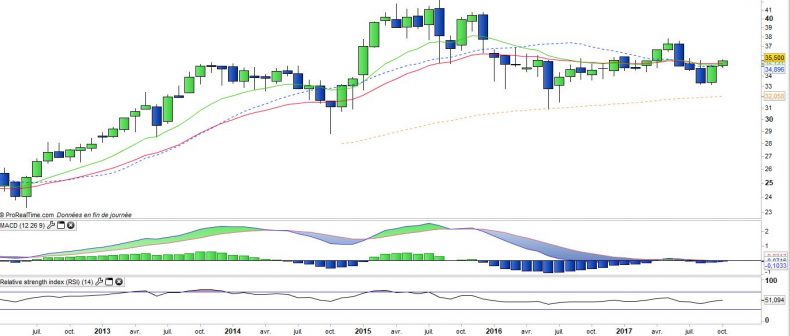 The monthly chart shows a fairly neutral trend over the long term, with aborted bullish and bearish attempts. This time the index has invalidated a bearish start caused this summer by Amazon, thanks to a bullish reaction since the month of September that looks set to continue.
We will monitor the MACD which could give the signal of the turnaround, as it did at the end of 2015 to signal the bearish reversal.
Weekly data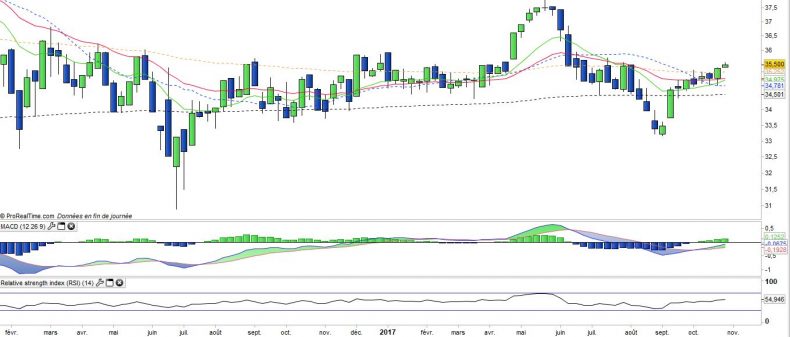 On the weekly chart, we can see a fairly clear improvement with an upward break out of the moving averages coupled with a bullish candlestick last week. This move is however not enough to place RTA on an upward trend, but this makes the index neutral and just on its axis of symmetry at € 35 materialized by the EMA100, by the way completely flat.
To resume an upward trend, RTA will have to move quite significantly away from this area.
ETF Objective
RTA is a UCITS compliant ETF that aims to track the benchmark index Stoxx Europe 600 Retail Net Return (28 companies)
Characteristics
| | |
| --- | --- |
| Inception date | 25/08/2006 |
| Expense ratio | 0,30% |
| Benchmark | SXRR - stoxx 600 Retail |
| Issuer | Lyxor |
| code/ticker | RTA |
| ISIN | FR0010344986 |
| UCITS | Yes |
| Currency | EUR |
| Exchange | Euronext Paris |
| Assets Under Management | 33 M€ |
| Replication Method | Indirect (swap) |
| Dividend | Capitalization |
| PEA (France) | Yes |
| SRD (France) | Yes |
| Currency Risk | Yes |
| Number of Holdings | 28 |
| Risk | 3/5 |
Country Breakdown
| | |
| --- | --- |
| United Kingdom | 32% |
| France | 19% |
| Spain | 18% |
| Sweden | 10% |
| Netherlands | 9% |
| Germany | 4% |
| Others | 8% |
Sector breakdown
| | |
| --- | --- |
| Consumer discretionary | 60% |
| Consumer staples | 37% |
| Technology | 2% |
| Financials | 1% |
Top Ten Holdings
| | |
| --- | --- |
| Inditex | 16% |
| Kering | 13% |
| Hennes & Mauritz | 9% |
| Konin Ahold | 9% |
| Tesco | 7% |
| Carrefour | 5% |
| Kingfisher | 4% |
| Next Plc | 4% |
| Marks & Spencer | 3% |
| Zalando | 3% |